What's this tool for?
The Evidence-to-Decision tool has been co-designed between the
Conservation Evidence
group and practitioners from several organisations to help guide practitioners through the process of making an evidence-based decision. The tool is structured to help you consider and combine several forms of evidence (e.g., scientific evidence, tacit knowledge, values, costs) to reach a transparent decision, documenting each stage of the process so that the logic and reasoning behind decisions can be open and traceable. If you wish to use an offline template of the tool, please
click here.
The tool is structured using three steps: 1.) Define the Decision Context (i.e., What is the problem you want to solve?); 2.) Gather Evidence (i.e., What actions are likely to be the most effective to address my problem in my local context?); 3.) Make an Evidence-Based Decision (i.e., What are the next steps? Which actions will be implemented based on the evidence you have assessed?). The diagram below lays out the detailed steps that this tool will guide you through.
This tool is best suited for use by individual landowners, reserve managers, and small NGOs working on specific projects to come to an evidence-based decision for a specific problem. The tool was designed to streamline an evidence-based decision-making process with limited time and resources. The tool can also be used to begin thinking about how to tackle major decisions, laying the foundation for a more in-depth decision-making process using other tools and frameworks (e.g., Structured Decision-Making, Multi-Criteria Decision Analysis, or Theory of Change etc.).
To begin using the tool, click on 1. Define the Decision Context. Throughout this tool you will be prompted to enter information which will be compiled and documented in a report which you will be able to download in the final step. (If you wish to see an example of what the tool produces, please go to tab 3. Make an Evidence-Based Decision and scroll to the bottom). Download the
E2D Tool Guide
for extra guidance. Tips will also appear if you hover over the bold text directly above text boxes in the tool.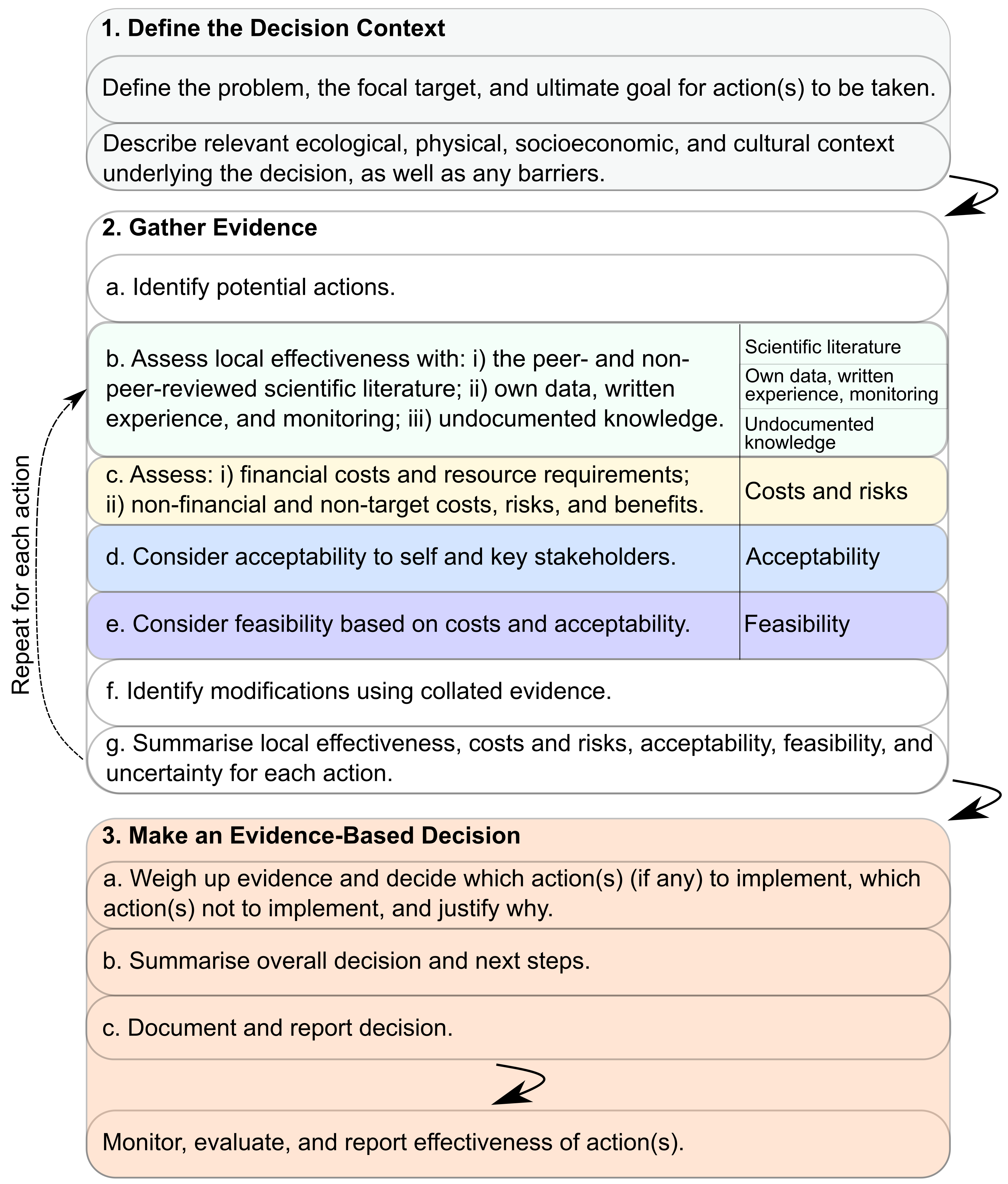 For acknowledgements and copyright information, please see the homepage.
What is the problem and desired outcomes? What is the relevant ecological, physical, and social context underlying the decision?
It is important to carefully define and detail the context surrounding the decision to be made. This includes the problem (or direct threat) being tackled, the location the decision affects, the ultimate goal you want to achieve (i.e., the desired outcomes), the focal target of any action (i.e., the species, habitat, or group), and any other relevant contextual information (e.g., socio-ecological factors, constraints on decision-making.
You are now asked to gather evidence for and against the implementation of different action(s) to address the Decision Context defined in the previous tab. We suggest you start by identifying potential management actions to address your problem (2.a), and then consider diverse forms of evidence on the effectiveness, costs, acceptability, and feasibility of each action by using the menu on the right (this will bring up more content below).
2.A. Identify potential actions
Which action(s) could be taken to address the problem, regardless of their cost, acceptability, or feasibility?
Brainstorm and note as many potential actions as you can to address the decision or problem you are considering - for possible ways to do this, see the
E2D Tool Guide.
Don't forget to look into the literature and search websites like
Conservation Evidence
to inform your list of actions. Make sure to include actions regardless of their acceptability, feasibility, or costs at this stage. These actions can be ruled out later if they are too expensive, unfeasible, or unacceptable. Once you have entered your list of potential actions below, add them one at a time using the right-hand menu (this will generate content below for you to fill in for each one).
Summary assessment table for each action
Table legend: Darker yellow = greater certainty. (White = Very low certainty or unsure, Pale yellow = Low certainty, Yellow = Moderate certainty, Dark yellow/Gold = High certainty).
Summary of evidence for and against implementation of each action:
3.A. Weigh up the evidence for and against different actions
Reflecting on the problem you face and the evidence and information you have gathered, what is your decision and why?
Using the accumulated evidence, the relative advantages and disadvantages of each modified action can be compared and related back to the original decision or problem being considered (in Step 1. Define the Decision Context). This involves weighing up how locally effective, cost-effective, acceptable, and feasible each action is and whether its implementation is justified.
We would suggest that users could prioritise actions based on their place in the Mitigation and Conservation Hierarchy
(see here).
For example, we would recommend that actions that avoid and minimize threats should be prioritised, before restoration and compensatory measures are considered. Several types of biases can also affect your decision-making, so we recommend reading the
E2D Tool Guide
which provides some common pitfalls to be aware of when evaluating the evidence for and against different actions. Finally, we would also suggest you consider whether taking no action may be the optimal decision - this is particularly important if there are great risks associated with action or there is substantial uncertainty in the evidence.
3.B. Justify overall decision and next steps
What is the overall decision, what are the next steps, and why?
Summarise your overall decision and the next steps you will take. This could be implementing these actions, pausing to make a more detailed assessment, gather more evidence, or decide to do nothing. We encourage you to revisit the tool in the future to update your decision based on new evidence, insights, and information - including if you generate evidence by monitoring any actions that you decide to implement.
3.C. Document and report decision (download report)
Example summary report
To download an example of a summary report without having to fill any information select a format and then click below. This may take a little time depending on your browser.
Download example summary report
Your customised summary report
This summary report has been created using the text you've entered into this tool. To download this summary report select a document format and then click below.
Download summary report